Published in The BANAR September 2021
by Mark Lister, BCA President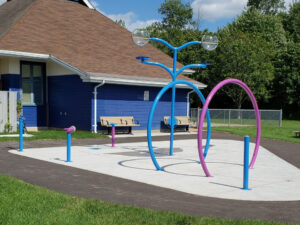 It is with much excitement that our new community splash pad was recently opened on June 30, providing our community with a place to cool down during the hot summer months. Located next to the community hall, this an incredible addition to our community and one that has already attracted many visitors. The splash pad is open during the summer months from 8 am to 9 pm daily.
The BCA partnered with the City of Ottawa and Councillor Laura Dudas' office on the development and costs of the splash pad, and we would like to take this time to thank everyone involved in the project for their help and support.
We would like to highlight the efforts of a few individuals in particular who made this possible. Thank you to Councillor Laura Dudas, Ian Chamberland of the BCA, Justyna Garbos from the city as well as numerous city staff and contractors, as well, the community for selecting the final design.
Thank you all for your contributions and efforts!